Additional History of Mechanics Hall
With the Great Hall's premiere in 1857, Mechanics Hall has maintained its fame as one of the finest concert and lecture halls in the United States-- "... a perfect success, ... both for music and for speaking" reports the Worcester Daily Spy. Through the years it has served as a venue for Caruso, Paderewski, Rachmaninoff, Rubinstein, Yo Yo Ma, Itzhak Perlman, Jessye Norman, as well as literary greats Thoreau, Emerson, Dickens, and Mark Twain.
Falling into disuse after the depression years, the Worcester County Mechanics Association restored it during the 1970s to its original beauty and excellent acoustics. Soon thereafter, the 1864 Hook organ was restored by Fritz Noack under the leadership of an AGO restoration committee headed by the late Stephen Long. Many fundraisers, such as selling organ chamber dust(!), were held to fund the project.
The 1970s restoration was a landmark in American organbuilding, culminating with its rededication in September, 1982- this year we're celebrating the restoration's twentieth anniversary.
The organ, with chamber openings cloistered by large oil paintings of early American leaders, is the largest nineteenth century American concert hall organ that can still be heard in its original location. Additional building renovations were completed in 1990, and major maintenance is scheduled for the fall of 2002.
Seating almost 1400 with a 1000-square-foot stage, Mechanics Hall retains its original purpose as a multi-use auditorium for concerts, business functions, receptions, and dinners-- a perfect location for a wedding, or a brown-bag organ recital.
The 100-ft-long hall provides visual and acoustical intimacy with no sound-absorbing materials used in the surfaces (except seat cushions). The reverberation time at a concert with full audience, but no orchestra on stage, is 1.6 seconds. Its principal deficiency is the flat main floor which necessitates neck stretching to view performances.
Architect: original hall, Elbridge Boyden; 1970s building renovation, Anderson Notter Finegold, Inc.; 1990s renovation, Lamoureaux Pagano & Associates, Inc.; Acoustical consultants (both renovations) Cavanaugh Tocci Associates, Inc.; Sound Consultants: David H Kaye.
---
Concert History

Since the restoration of the "Worcester Organ" was completed in 1982, there have been only six concerts [as of 2017] that have featured the instrument in a major orchestral role. The Poulenc Concerto for Organ and Orchestra has been performed three times by the former Worcester Orchestra with organ soloists Barclay Wood (1982), Catherine Crozier (1983); and Simon Preston (1985). James David Christie was soloist for the Poulenc with the Boston Artists Orchestra in 1989 in a concert celebrating the organ's 125th anniversary. Mr. Christie also performed Guilmant's Symphony I for Organ and Orchestra at that concert, the third performance at Mechanics Hall, the first being in 1882 when the work received it United States premiere. Stephen Pinel was at the organ for a 1987 performance of the Guilmant with the Bach Society of Worcester, Stephen Long, conductor. The most popular work for organ and orchestra, Saint-Saens "Organ Symphony," has been heard only once, in 1983 with Holyoke organist Gilles Hebert, soloist, and the Eastern Connecticut Symphony Orchestra conducted by Dr. Paul Shannon. The Worcester Organ has, of course, been used with smaller ensembles and in performances of major works requiring it, including the Brahms Requiem, Strauss Also Sprach Zarathrustra, and Holst's The Planets.

One additional note --- the bellows of the Worcester Organ can still be pumped by hand, as they were at the 1989 recreation of the original dedicatory recital, when football players from Worcester Academy, a school associated with organ benefactor Ichabod Washburn, were recruited for that task. Few know that the bellows-pumps were discretely employed at the 1983 performance of the Saint-Saens, because the wind supply at that time was inadequate for the final chord without assistance.

Editor's note: A few years ago, a second organ blower was installed to fully wind the Hook in all Tutti circumstances to unleash its full aerobic capacity without sag [WS].

Richard F. Jones, 2017

1991 Restoration Report by Fritz Noack (PDF link)
---
Picture Gallery
Photo credit: Will Sherwood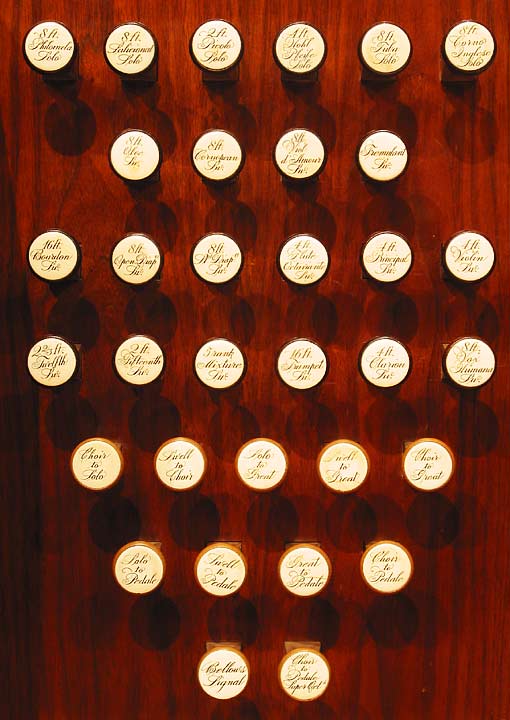 LEFT JAMB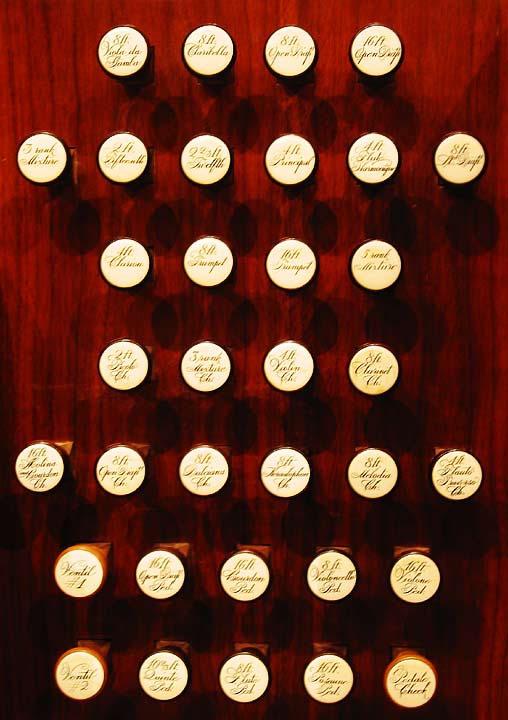 RIGHT JAMB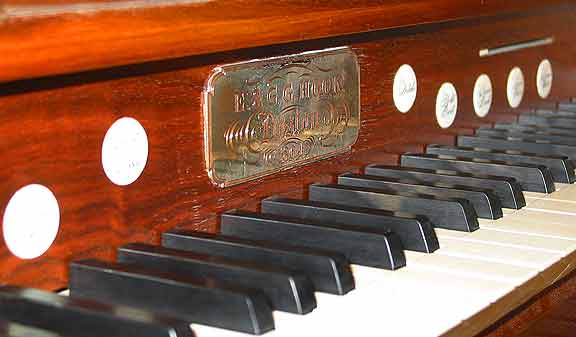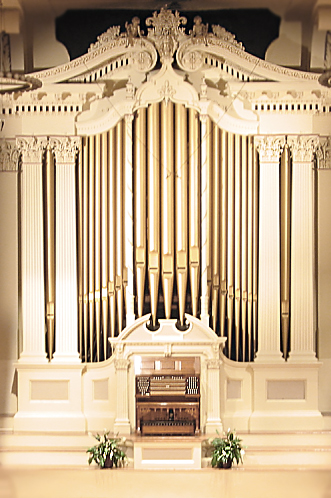 Center of facade, looking upward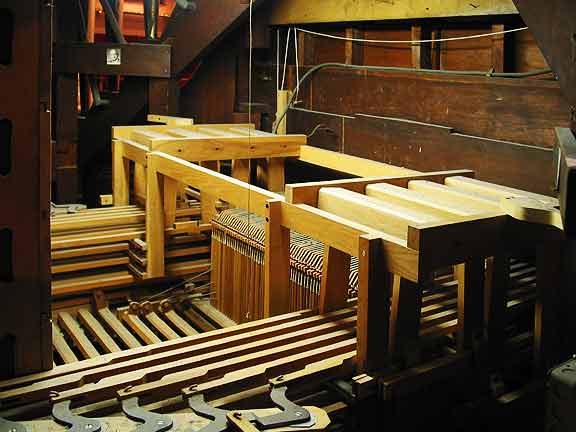 Square rails and stop lever mechanisms directly behind console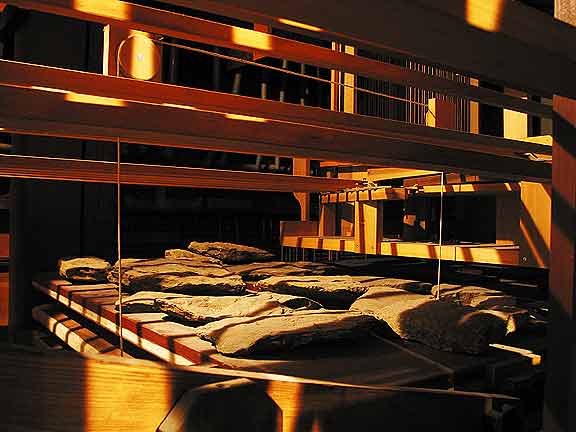 Fieldstone weights for main bellows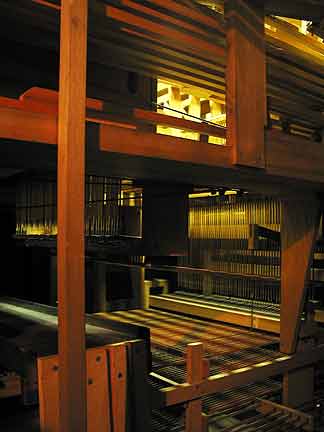 Tracker transports directly behind console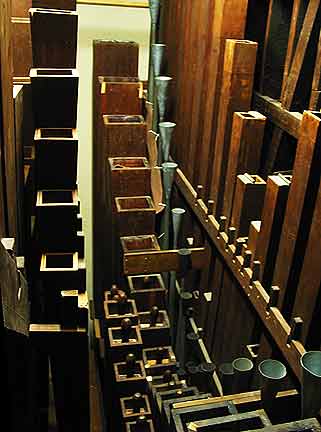 Pedal division pipes

Ready to pump manually if needed

Picture attached to a structural support, inside chamber
Rumor has it that this is a Hook grandson, but we think he had something to do with chickens
---
Photos from Sept. 2003 Brown Bag for Kids held at Mechanics Hall
Maria Ferrante, soprano; Betsy Northrupe, narrator; Will Sherwood, organ
E & G G Hook Opus listings surrounding Mechanics Hall's installation:
1829, Opus 1. Danvers, MA, Unitarian, 1 manual.
. . .
1863, Opus 327. Cleveland, OH, Ursuline Convent. 1 manual. 12 registers.
1863, Opus 328. Bucksport, ME, Elm Street Congregational. 2 manuals. 14 ranks.
1863, Opus 329. Woonsocket, RI, St. James' Episcopal. 2 manuals. 21 registers.
1863, Opus 330. Lafayette, IN, Second Presbyterian. 2 manuals. 26 registers.
1863, Opus 331. Hebron, ME, Tobie, R. C. residence. 2 manuals. 17 stops.
1863, Opus 332. Wellfleet, MA, Methodist. 2 manuals. 25 registers.
1864, Opus 333. Rochester, NY, Central Presbyterian. 3 manuals. 46 registers.
1864, Opus 334. Worcester, MA, Mechanics Hall. 4 manuals. 64 ranks.
1864, Opus 335. Boston, MA, Meionian Hall, Tremont Temple. 2 manuals. 25 registers.
1864, Opus 336. Pittsfield, NH, St. Stephen's Episcopal. 1 manual. 8 registers.
1864, Opus 337. Rockford, IL, Second Congregational. 2 manuals. 27 registers.
1864, Opus 338. Sherborn, MA, Pilgrim United Church of Christ. 2 manuals. 18 ranks.
1864, Opus 339. Philadelphia, PA, Tabernacle Baptist. 2 manuals. 31 registers.
1864, Opus 340. Toronto, ON, Elm Street Wesleyan, 2 manuals.
1864, Opus 341. Newport, RI, Belcourt Castle (Tinney Estate). 2 manuals. 22 stops 26 ranks.
1864, Opus 341. Providence, RI, Brown Street Baptist. 2 manuals. 27 registers.
1864, Opus 342. Burlington, VT, First Baptist. 2 manuals. 19 ranks.
1864, Opus 343. Decatur, IL, First Baptist. 1 manual. 12 registers.
1864, Opus 346. Troy, NY, Second Street Presbyterian. 3 manuals. 39 registers.
1864, Opus 347. Sacramento, CA, Congregational. 2 manuals. 20 registers.
1864, Opus 348. Taunton, MA, Unitarian. 2 manuals. 32 registers.
1864, Opus 349. Boston, MA, South Congregational. 3 manuals. 58 registers.
1864, Opus 350. Waltham, MA, Roman Catholic. 2 manuals. 22 registers.
. . .
1872, Opus 625. Glenville, NY, Reformed, 1 manual, 10 stops.
(after this E & G G Hook merged with Hastings)