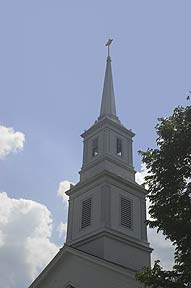 Sudbury United Methodist Church
Sudbury, Massachusetts, USA
Stuart Organ Company, 1976
Mechanical Action
(Currently maintained by Andover Organ)
(Current condition as of 2007: excellent)
SWELL 58 under expression
Stopt Diapason 8'
Viola 8'
Celeste 8' T.C.
Spire Flute 4'
Principal 4'
Octave 2'
Larigot 1 1/3'
Mixture III
Hautboy 8'
Tremulant
GREAT 58
Principal 8'
Bourdon 8'
Octave 4'
Chimney Flute 4'
Fifteenth 2'
Sesquialtera II t.c.
Mixture IV
Trumpet 8'
PEDAL 30
Sub Bass 16'
Principal 8'
Choral Bass 4'
Mixture III (prepared)
Trombone 16' (half length)
Swell-Great
Swell-Pedal
Great-Pedal
Detached reversed console

Console is detached and reversed, sporting a sleek, low profile
After having been removed from the Bowrey Mission Church(Rev. David Henritzy/The Christian Herald Association) in New York City, the Hall & LeBow pipe organwas stored and brokered by the Organ Clearinghouse (at that time headed by Allen Laufman). In 1976 the instrument was rebuilt by the Stuart Organ Company, Aldenville, Massachusetts for Sudbury Methodist for a sum of approximately $50,000. The rebuild included thorough mechanical refurbishing, revised tonal scheme, and construction of a new case to compliment the architecture of the church building. The organ is of tracker design. The case and tonal designs were realized under the direction of Richard S. Hedgebeth, head of the Stuart Organ Company. Mr. Hedgebeth was a creative and resourceful craftsman: he used stylish drawer pulls for the drawknobs, and 1975 Ford grey paint for an enduring finish for the facade pipes.
The Stuart replaced a Baldwin Model 12 (tube) instrument which had been purchased in the early 1960s at the time the sanctuary was built. E.A. Kelley Associates was the initial consultant to assess the needs of the church, but the relationship was terminated early in the project.
Paul Weiss (Organ Committee Chair), Denis Hammerton, Erle Renwick, Erv Davis, and John Harper (Director of Music) participated in the coordination.
Organists at SUMC
Will Sherwood, ChM, AAGO 1976-1980
Lois Toeppner
Fern Hieb
Kevin Murphy