Worcester Chapter of the American Guild of Organists
Central Massachusetts Pipe Organ Specification Collection
---

Thompson Congregational Church
Thompson Connecticut, USA
Doane Memorial Organ

1873 Johnson & Son, Opus 409 II/28
Last updated March 2011
Specification and effect very much in keeping with vintage.
Survived a steeple collapsed in Hurriacane of 1938.
Seems to be well-maintained and left pretty much intact after a steeple fire of 1987.
Andover had restored it at that time, and currently maintains it.
History:
The organ was originally installed in 1873 in the State St. Methodist Church, now the Wesley United Methodist Church, in Springfield, MA. It was purchased around the turn of the century by the Doane family who were members of Thompson Congregational Church, in memory of their son. It was installed in Thompson Congregational in 1900.
The (labelled) Vox Humana was removed in the late 1900s because it was not a Johnson rank of pipes and was of poor quality and would not stay in tune. According to Andover Organ Co., there was originally a rank of Cornopeon pipes in the Swell. A rank of Cornopeon pipes that was in a William Johnson Organ has been purchased and the church is raising the money in 2011 to have them installed.
Great
Bourdon 16
Dulciana 8
Viola d Gamba 8
Open Diapason 8
Melodia 8
Flauto Traverso 4
Octave 4
Nazard 2 2/3
Mixture III
Fifteenth 2
Clarinet 8
Trumpet 8
Swell
Open Diapason 8
Salicional 8
Quint 8
Fugara 4
Flute Harmonique 4
Oboe 8
Vox Humana 8 (not original (Cornopean was original), and removed, to be replaced in ~2011 with a similar reed)
Flute 2
Pedal
Open Diapason 16
Bourdon 16
Violoncello 8
Sw/Gt Sw/Ped Gt/Ped
Tremolo (almost unusable- fast and shakey)
Balanced swell shoe on far right
Three preset combination pedals, unlabeled, seemingly: Great - p,mf,f
Straight/flat pedalboard, 27 notes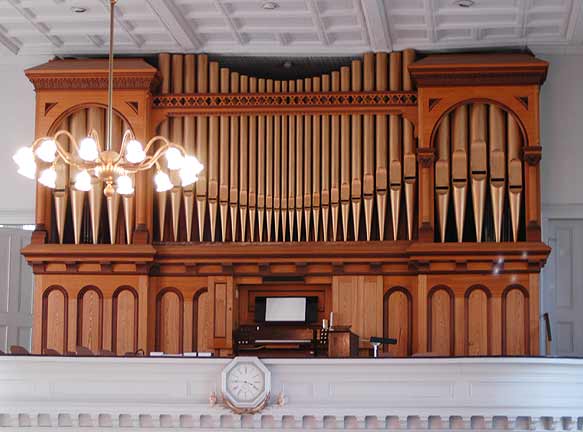 ---
Contact Webmaster at