ORGAN DEDICATION CONCERT SERIES ANNOUNCED
Pipe organ completely rebuilt, Waterlogged from firefighting directly above chambers


Pipe organ photos by Will Sherwood
Oct 1(2004)
Will Sherwood, organ
Bruce Hopkins, trumpet
Bob Gordon, timpani
First Unitarian Festival Choir
works of Bach, Sperger, Handel, Vierne, Charles Callahan
Celebrating:
Aeolian-Skinner-Russell-Gilbert Organ Dedication
40-year anniversary of the original instrument
Sherwood's 20 years of service at First U
Sherwood's 40 years in church music
LISTEN (to excerpts from rehearsals)
Bach Handel Sperger Mouret Charpentier Pote
Oct 8
Emanuele Cardi, Italy
works of Widor & Duruflé
Listen to Dr. Cardi, two movements he will be performing Oct 8.
Duruflé: Prelude & Fugue on the name of Alain
Oct 15
Brian Jones, Boston

First Unitarian Festival Choir singing Brahms' Requiem in 2003, photo by David Nase
Listen to an excerpt (for choir, organ, timpani) from the concert (purchase this choral music)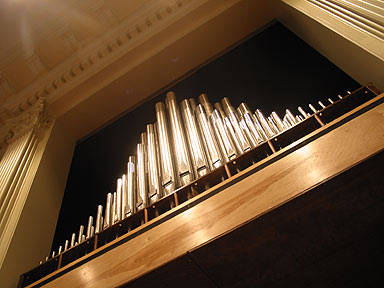 ---
---
Fire's Intense Heat Twists Steel Steeple Structure, Causing $4M Damage

Driving back from a week's vacation on the cape, organist Will Sherwood listened to day-old messages from his cell phone to find almost twenty panicked and tearful messages:
"The church is on fire:
Come here now!"
Rain Forest Sanctuary
Upon arrival the day after the fire, his heart sank as he walked into the sanctuary, still dripping with water like a tropical rainforest from the tens of thousands of gallons of water injected into the steeple and roof structure to keep the flames and heat at bay. From ceiling insulation & plaster to pew cushions, wood flooring, and plaster, down to the 12" flooded basement (offices, Sunday School rooms, storage, and Music Library), the church facilities were in shambles, but still standing.
Smoldering Soldering
It had been a Saturday afternoon and the roof replacement contractors had left for the day, after having soldered their last seam for the weekend near the steeple. Perhaps a soldering job performed a little too exhuberently had left its heat to ignite the 60-year-old wood and steel structure, last rebuilt in 1938 after the Worcester Hurricane had toppled the steeple. But the 200-year-old spirit of the congregation pulled together along with loving support from the community to rebuild "stronger and better."

Soaked and bent pipes under the protective firemen's tarp


Complete Rebuilding
The pipe organ was dismantled, removed, and completely rebuilt over the course of several years. Services were held, using a Steinway grand piano, in the church's fellowship hall, reorganized to be the congregation's sanctuary for some 1 1/2 years. Upon returning to a glistening remodeled sanctuary in early 2002, the organ was not yet ready, and the choir sang from the front main floor, using the Steinway as accompaniment. In September 2002, Russell & Company of Vermont began the long and arduous task of installation and completion of the pipe organ, now with its console (and the choir loft) relocated to the center of the back balcony. Beginning with 7 ranks, just barely enough for congregational hymns, over the subsequent year and a half, the remainder of the 70 ranks were installed and regulated for the room's acoustics (which had been greatly improved for both voice and music). In January, 2004, the new instrument was formally dedicated in a morning service, and the dedication recital series will be held in October, 2004.

Opportunistic Improvements
The rebuilding of the instrument offered several opportunities for improvement in a number of ways: the organ chamber layout was vastly improved due to its original cramped and awkward choreography; the latest computer controlled mechanisms were installed to assist the organist in changing stops and even "recording" the keystrokes for later playback; and several improvements and updates for tonal quality were made. The rebuilding costs totalled over $750,000 for a total worth of about $ 1.5 million.
Thumbnail stats of instrument: 69 Stops, 67 ranks; 3994 pipes; 4 Manuals & Pedal Console; 5 divisions
See more about the fire and restoration
It is an honor we might not have chosen. But to rebuild this church and instruments for future generations is an honor and a privilege that has come to each member and friend of First Unitarian. Our church building forms the vessel of "bricks and mortar" that will hold the spirit of the free faith in years to come so that those who seek a path to God and truth, without the constraints of creed and dogma, will always have a spiritual home in Worcester.
— Rev. Barbara Merritt, Senior Minister
---
This month our congregation will be celebrating the dedication of our wonderfully rebuilt pipe organ—an old friend returns. Almost destroyed in the June 2000 fire, our instrument has truly risen like a "Phoenix." I along with Gordon Gurney and others, have shepherded its rebirth, its new location, the greatly improved acoustics, and its new digital capacities.
Perhaps only once a century does a church get the privilege to commission a new pipe organ for its congregation & community. Typically a new instrument is planned for years, built in the factory over a period of several more years and then installed over the course of 2-4 months. Our situation was quite different due to the unexpected nature of the fire. We were fortunate to be able to have a small portion (10%) of our instrument refurbished and returned to us a few months after our sanctuary reopened in 2002. The remainder of the rebuilding has ensued over the last two years, culminating in the final installation touches this year. We come to celebrate the principals, flutes, strings, and reeds—all 4,000 pipes ready to provide a new century of beautiful music for our church.
Come early and get string-side seats for these masterful concerts.
— Will Sherwood, ChM, AAGO, Director of Music
---


A native of Johnson City, Tennessee, Will Sherwood has a multi-paletted career: engineer, musician, artist/photographer. He graduated from Carnegie-Mellon University with BSEE and MSEE degrees in computer engineering, and has Choirmaster and Associate degrees from the American Guild of Organists. He has appeared as guest soloist with the Boston Pops and has given many concerts in both the U.S. and Europe.
During the week, he is a Sr. Engineering Manager at Intel (formerly Digital, then Compaq) where he is manager of the Microprocessor Verification Group for a next-generation Intel 64-bit microprocessor design. In addition, he is Organist-Choirmaster at First Unitarian Church, Worcester, Mass, and a freelance jazz and classical pianist. Other interests include volunteering for local homeless agencies, graphic arts, neon sculpture, running, organic gardening, and preparing gourmet vegetarian cuisine.
Sherwood's Church Music bio - 40 years of services



Bruce Hopkins (Trumpet and Corno di Caccia) is a graduate of the New England Conservatory of Music (M.Music) and Boston Conservatory of Music (B.Music). Mr. Hopkins has studied trumpet with William Vacchiano, Roger Voisin, John Coffey, Carmine Caruso and Julio Tancredi.
Mr. Hopkins is presently Principal Trumpet with the Thayer Symphony Orchestra and the Symphonic Brass and Trumpet Soloist with the TSO Chamber Players. He has often appeared as trumpet soloist with the Thayer Symphony Orchestra, the Central Massachusetts Symphony Orchestra, the Holy Cross Chamber Orchestra and the Ocean State Chamber Orchestra as well as appearing as soloist in Germany, England, Scotland and the United States. Mr. Hopkins performs regularly with John Roderick MacDonald (Principal Trumpet - Leipzig Gewandhaus Orchestra) and Donald Dame (Organist and Choirmaster at Blessed Sacrament Church, Providence, RI) in trio performances both in the US and abroad.
In addition to being the Personnel Manager of the Thayer Symphony Orchestra and Manager of the Bion Orchestra, Mr. Hopkins is presently Trumpet Instructor at the College of the Holy Cross (Worcester, MA) and has been the Director of the Assumption College Band (Worcester, MA) since 1987. He formerly held the positions of Director of Concerts and Community Activities, Program Coordinator and Associate Director of Music at the Performing Arts School of Worcester. He is also the Executive Director of MUSIC PERFORMANCE SERVICE, coordinating over 400 performances annually.
Mr. Hopkins has served on the faculties of Assumption College, Clark University, College Of The Holy Cross and the Performing Arts School of Worcester (MA), Barrington College (RI), Worcester State College and St. Mark's School (Southboro, MA).

---
IMAGES FOR PRESS/MEDIA
(click on link below each image)

300 dpi tif (stuffit) download

300 dpi tif (stuffit) download

Sherwood & Hopkins in the pipe chambers of the pipe organ at First Unitarian to be featured in the October 1 concert
300 dpi tif (stuffit) download

---
Emanuele Cardi (download stuffited tiff RGB BW) is organist and choirmaster at the Ghilardi organ of St. Maria della Speranza's church in Battipaglia, one of the best known instruments in the international contemporary organ-building school.
Dr. Cardi received his diploma with full marks and honors in Organ Performance and Organ Composition with Wijnand van de Pol at the "F. Morlacchi" Conservatory in Perugia, where, as best graduate, he was awarded a scholarship and a concert offered by the Conservatory in collaboration with the "Elena Marino" Music Association; he then studied Baroque and Renaissance organ repertoire as a post graduate student.
Interested in the restoration of ancient organs, he has been specifically studying 16th- and 17th-century Neapolitan organ-building and organ music for many years. He has written several articles for music & industry journals, participated in conferences and served as a consultant in the restoration of historical organs.
As an organist, he has concertized in Holland, Belgium, Spain, England, Ireland, Germany, France, Sweden and Poland, playing some of the most famous Europeans organs, including Oude Kerk, Amsterdam-Olanda; Ulster Hall, Belfast; St. Omers; France; Galway Cathedral Ireland; Cattedrale di Terragona, Spain. He participated in some of the most prestigious festivals, among wich the International Organ Week in Brussels (invited by the Italian Embassy); XXXV Organ Festival Kamien Pomorski – Polond; Celebrity Organ Recitals St. Giles' Cathedral, Edimburgo; St. Omers and Avignon Cathedral (France). He also performed several inaugural concerts, among which the one for the restoration of the great Hillis Organ at the Redemptorists' Church in Belfast.
He has recorded a CD, entitled Il Corale, a series of CDs dedicated to musical forms. His next CD will feature the historical organs in the Campania region of Italy.
Listen to Dr. Cardi, two movements he will be performing Oct 8.
Duruflé: Prelude & Fugue on the name of Alain

What the media is saying:

A touch of southern [Italy] flavour - The nature of his playing was eager and colorfull... The faster movements of the Vivaldi-à la-Bach were attractively done, with a brightness of the playing that counteracted the temper of a grey July...
The Irish Times - 5 Aug., 1998

Recital hits right key - ...there were many fine qualities in his playing and he was completely at ease on the big Hill organ, exploring its resources with confidence...Great musical personality admired in his performance of Bach's fifth Sonata...a performance which was enthusiastically acclaimed by the great audience.
Belfast Telegraph - Wed. 14 Oct., 1998

Cardi: trilli e passaggi eseguiti con nonchalance e un finale in crescendo - ...la graziosa tessitura clavicembalistica eseguita con equilibrata espressione nella sempre controllata ma irreprensibile agilità dell'esecutore...nel mirabolante virtuosismo del preludio e fuga BWV 532 che Cardi ha trovato la sua dimensione più autentica, concludendo in un vorticoso crescendo la sua performance.
Il Piccolo - 28 Ott., 1998

Od baroku do wspòlczesnosci- ...Interesujaco roznicowana kolorystyka charakteryzowala poszczegolne wariacje choralu "Nun lasst uns Gott"...w ktorym doszla w pelni do glosu muzykalnosc solisty.
Glos Szczec. - 16 lug., 1999

---


Brian Jones is Emeritus Director of Music and Organist at Trinity Church, Boston, where he ran a widely acclaimed program for 20 years. He has performed as an organ concert artist in many parts of the United States and England, and his programs have often been praised for their variety and interest, as well as for the artistic and communicative integrity he brings to the music of the King of Instruments. He has been heard in such venues as the National Cathedral, Washington, DC, Grace Cathedral, San Francisco, St. Paul's Cathedral, London, St Thomas Church, New York City, Trinity Episcopal Cathedral, Portland, OR, Rutgers University, Harvard, Yale, Smith College, Westminster College in PA, and Wheaton College (MA). He has often played programs for conventions of the American Guild of Organists, Organ Historical Society, and the Association of Anglican Musicians. With flutist Susan Clarke he has performed many programs which have explored a wide range of the literature for flute and organ. He has released many recordings of organ solo music, music for brass and organ, for piano and organ, and with the Trinity Choir.

Mr. Jones gave a highly acclaimed performance at the Romantic Organ Symposium in Milwaukee, which a reviewer said "had life, passion, excitement--all elements too seldom heard in any organ recital, indeed too seldom heard in any recital." He has been a tireless advocate for the organ and its music, and had done many demonstrations for listeners of all ages, incorporating music of all periods and styles into his programs. He has often been heard on National Public Radio, and also on the BBC. He has taught at many workshops and conferences of the American Guild of Organists and American Choral Director's Association, and also at the Evergreen Music Conference, Sewanee COnference, and St. Dunstan's Workshop. This summer (2004) he will lecture at the Eton Choral Course in England. He has played many dedication recitals of new and rebuilt organs, and has been praised for his ability to communicate the breadth, depth and brilliance of a new instrument to members of congregations which have invested significant resources in such a new venture.
In his time at Trinity Church in Boston, one of America's great churches, he built the Trinity Choir into a group of national and international prominence, and founded the Parish Choir which has also been highly successful. Candlelight Carols, on the London-Polygram label, has enjoyed immense popularity for more than a decade, and in a review of With Heart And Voice, critic David Vernier called the Trinity Choir "one of America's outstanding choirs," praising the group as "musically accomplished, exemplary in technique, experienced in a formidable range of repertoire, and possessing a concordant, evenly-balanced ensemble sound that can only be described as sublime." Radiant Light—Songs for the Millennium, on the Dorian label, has had similar response, and listener reviews of this recording on amazon.com average five stars. A Choral Christmas, released several years ago, elicited the following first review: "this is a first rate recording that will satisfy all listeners looking for an ideal all-around Christmas choral collection." Gramophone Magazine said: "We hear sweetness, purity, and serenity throughout this recording, certainly an example of American choral performance at its height. Recorded in Trinity Church's reverberant yet transparent acoustics, the recording brings reflective and exuberant holiday sentiments into glowing focus." During the month of December, 2001, A Choral Christmas was consistently in the top 25 CD's on amazon.com. His latest CD with the Trinity Choir, The Sounds of Light, will be released this spring. The Trinity Choir has often been heard on National Public Radio, as well as in Great Britain on the BBC, where the group was recently featured in a February broadcast especially recorded in Boston by British engineers. In June, 1997, the Trinity Choir toured England, with services and performances in such significant venues as Westminster Abbey and St. Paul's Cathedral, London; Salisbury Cathedral; and New College, Oxford. The Trinity Choir toured Central Europe in June, 2004.
During the Fall of 2004, Mr. Jones is the Director of Cathedral Music at St John's Cathedral, Albuquerque, NM.

He is a graduate of Oberlin College Conservatory of Music and Boston University and studied organ with Haskell Thomson, Jack Fisher, choral directing with Robert Fountain, and orchestral conducting with Hermann Genhart, and eurythmics with Inda Howland.

Mr. Jones assumed his first regular position as an organist at age 14, and carries on somewhat of a family tradition: his grandfather was an organist and his great uncle, a farmer in Maine, played at the Federated Church in Turner, ME for 66 years.
What the press is saying:
"His was musicianship of the first rank."
James Chute in the Milwaukee Journal

"In Mr. Jones' recital there was respect for the music whether early, romantic, or modern; yet it was always interesting and exciting."
(The American Organist, in a review of a Methuen Memorial Music Hall performance.)

"Mr. Jones is far more than technically competent-- it was his phrasing, rhythm and understanding as much as digital virtuosity that made Bach's brilliant Toccata in F Major a lucidly warm listening experience."
(Quincy Patriot-Ledger, Mass.)

"Brian Jones amazed me with his command of the instrument, as well as with his ability to sustain a piece whose inclination is to wander." (Franck - Fantaisie in A major)
Michael Steinberg in The Boston Globe

"Brian Jones is a superlative musician."
The Diapason

"In Mr Jones' hands, the sound was clean and articulate in a way that seemed to suit the music perfectly."
The Vineyard Gazette
---
---
---